Information and Forms
for new lie-detection clients
---
A COMPLETE CERTIFIED POLYGRAPH TEST IS NOW
ONLY
$145
BY THE MOST EXPERIENCED EXAMINER.

SEE THE
SECRETS
BELOW!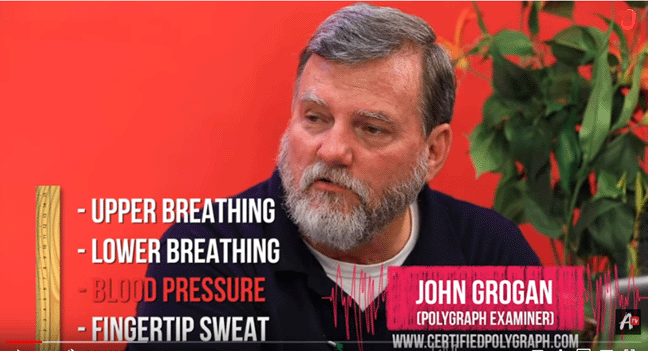 This video prepares you for how the test works:
---
Polygraph 'secrets':

What to know before you
hire a polygraph examiner!
MANY POLYGRAPH EXAMINERS DO NOT
WANT YOU TO KNOW THESE SECRETS: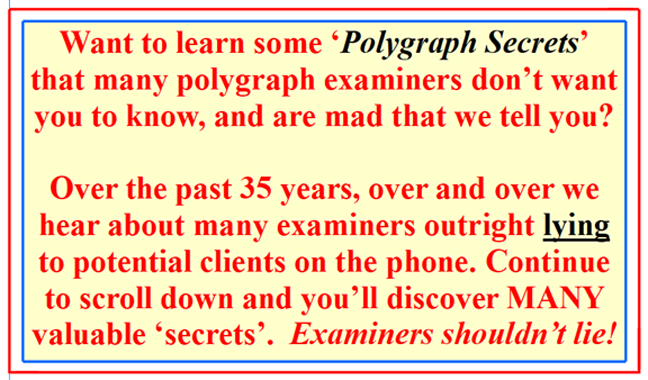 The 'secrets' here are 100%
accurate truth about things
many examiners get caught
lying about: prices, experience,
locations, time, bribes, deposits,
scoring, results, referral services,
TV polygraphs, fake office addresses,
examiners who badmouth others,
associations/clubs, certifications,
and much more.


---
POLYGRAPH SECRET

#1

:



NEVER TEST IN YOUR HOME

OR


AT A 'RENT-BY-THE-HOUR' OFFICE!

LOCATION IS MORE IMPORTANT
THAN MOST CLIENTS REALIZE!






---



POLYGRAPH SECRET

#2

:



BRING YOUR WATCH!
|
WHEN SOME EXAMINERS TELL
YOU THAT YOUR TEST 'COULD'
TAKE 'UP TO' '2 OR 3' HOURS,
OFTEN THOSE WORDS ARE
SO YOU DON'T CHOKE ON
THEIR OVERPRICING.

'COULD TAKE' IS NOT 'WILL TAKE'.

THE ACTUAL 'TESTING' PART
(WHERE YOU ARE ANWERING QUESTIONS
AS YOUR BODY RESPONSES ARE MONITORED)
IS ONLY 15 MINUTES:
EVERYTHING ELSE IS TALK.






---



POLYGRAPH SECRET

#3

:



NEVER BE FOOLED INTO
PAYING A DEPOSIT TO
SCHEDULE AN APPOINTMENT!





(more 'secrets' will be added here soon)


---

The info shared above with you
is from the Los Angeles polygraph
examiner and polygraph instructor
who has tested since the 1980s and
has tested more than 11,000 persons
& has near 1,000 TV/media appearances



Visit the Los Angeles
polygraph examiner HERE

Contact the Los Angeles
polygraph examiner 818 883-6969



A complete polygraph test in
the Los Angeles area is

$145




---




Do the math:

John has the Most Experience
(more than 35 years)

+
John has the Best Price
($145 for a complete exam)

=
John is the #1 polygraph choice.

Federal Law, regarding the testing of employees
Employee Notification Form
Arrange for polygraph testing in
Woodland Hills CA, Beverly Hills CA, Van Nuys CA, Los Angeles CA,
San Diego CA, Huntington Beach CA, Ventura CA, Santa Barbara CA,
Sacramento CA, Arizona, Idaho, Washington, Florida, Georgia, and New York
(different cities, different prices)
---
Want MANY more
polygraph secrets?
Click
HERE

©1987-2022 CertifiedPolygraph.com

Return to home page 818 883-6969